Let's Talk About It
Tuesday, February 28, 5:30 pm
Tuesday, March 28, 5:30 pm
Community Room and Zoom
Book Club will discuss Behind the Beautiful Forevers: Life, Death, and Hope in a Mumbai Undercity by Katherine Boo this Tuesday. Our discussion will begin at 6:00 p.m. in the Community Room, after a simple meal of soup, bread, and dessert. Participants can also join via Zoom.
Our final Let's Talk About It discussion will be The Nickel Boys by Colson Whitehead on Tuesday, March 28. Books are now available for checkout. Whitehead's novel follows two black teenagers who are branded delinquents and sent to suffer the abuses of a 1960s reform school, Nickel Academy. The novel is a fictionalized account of Florida's Dozier School for
Boys. The Nickel Boys won the 2020 Pulitzer Prize for fiction and is described as "devastating" but "ultimately a powerful tale of human perseverance, dignity, and redemption."
Sponsors for Let's Talk About It include The Idaho Commission for Libraries, The Idaho Humanities Council, The Institute of Museum and Library Services, and The National Endowment for the Humanities.
Citizen Science: Stanley Geology
Wednesday, March 1, 5:00 pm
Zoom
Our next Citizen Science presentation will be by Shawn Willsey, a Distinguished Professor of Geology at the College of Southern Idaho. He will discuss the geology of the Stanley area, with a look back at the 2020 earthquake. Shawn is the author of Geology Underfoot in Southern Idaho, co-author of Roadside Geology of Idaho, and a licensed professional geologist. Shawn maintains a vibrant YouTube channel where he posts informative videos on geology from various locations in Idaho and elsewhere. He has led geologic field trips and tours throughout Idaho, the western U.S., Hawaii, Iceland, and Scotland. In addition to his geologic expertise, Shawn is also a licensed climbing guide and occasionally works for Sawtooth Mountain Guides.
Last month, we had a modest turnout but a great discussion of Sabrina & Corina: Stories by Kali Fajardo-Anstine, this year's Winter Read book. The final two events at The Community Library in Ketchum are coming up and can be livestreamed:
Thursday, March 2, 6:00 pm: "Warrior Women" Film Screening and Q&A (details here)
Thursday, March 9, 6:00 pm: Keynote with author Kali Fajardo-Anstine (details here)
Together We Read Digital Book Club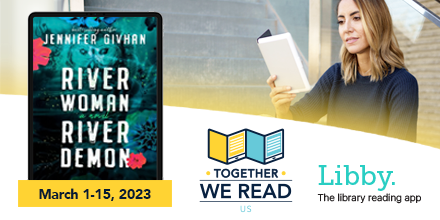 The next Together We Read title from Overdrive is River Woman, River Demon by Jennifer Givhan. Between March 1 and 15, access the digital book or audiobook for free, without any waitlists or holds, by visiting idahodigital.overdrive.com or through the Libby app.
In River Woman, River Demon, award-winning Mexican-American and Indigenous author Jennifer Givhan brings us an exquisitely written, spell-binding psychological thriller—weaving together folk magic with personal and cultural empowerment—that is perfect for fans of Mexican Gothic.
The ebook and audiobook can be read on all major computers and devices, including iPhone®, iPad®, Android™ phones and tablets and Chromebook™. Through Libby, readers can also send to Kindle. The title will automatically expire at the end of the lending period, and there are no late fees.
I Spy GREEN Display
Stop by the library and see if you can spy some special items in the sea of green in our latest display, just in time for St. Patrick's Day!
March Events
Tuesdays, 10:30 am
Preschool Story Time for children ages 0-5
Tuesday, February 28, 5:30 pm
Let's Talk About It: Behind the Beautiful Forevers by Katherine Boo in person and via Zoom
Wednesday, March 1, 5:00 pm
Citizen Science: Stanley Geology and a Look Back at the 2020 Earthquake with Shawn P. Willsey via Zoom
Thursday, March 2, 6:00 pm
Winter Read: "Warrior Women" Film Screening and Q&A, The Community Library (details here)
Thursday, March 9, 6:00 pm
Winter Read: Keynote with author Kali Fajardo-Anstine, The Community Library (details here)
Tuesday, March 14, 5:15 pm
Board Meeting in person and via Zoom
Tuesday, March 28, 5:30 pm
Let's Talk About It: The Nickel Boys by Colson Whitehead in person and via Zoom
Regular Hours
Monday 12-6
Tuesday and Wednesday 12-4
Thursday 12-6
Friday and Saturday 10-6
Closed Sunday